Activating and installing your Flex Aware Connected Cable requires different steps than the standard Flex Aware. Please click
here
to see the Flex Aware Connected Cable guide.

Index
First time customers: Please follow the directions
here
to download the All Aware app, sign into your account, and subscribe to notifications.

1. Insert Batteries
A. Insert the included 4 AA Lithium batteries into the device, ensuring they are facing the right direction.

B. Wait 60 Seconds for your device to boot up before proceeding to the next step.
2. Add Your Flex Aware to a Notification
New Customers:
If you are a first time customer, you should have already subscribed your new Flex Aware(s) to Sensor Activity and Sensor Left Open Notifications in the onboarding, please proceed to Step 3.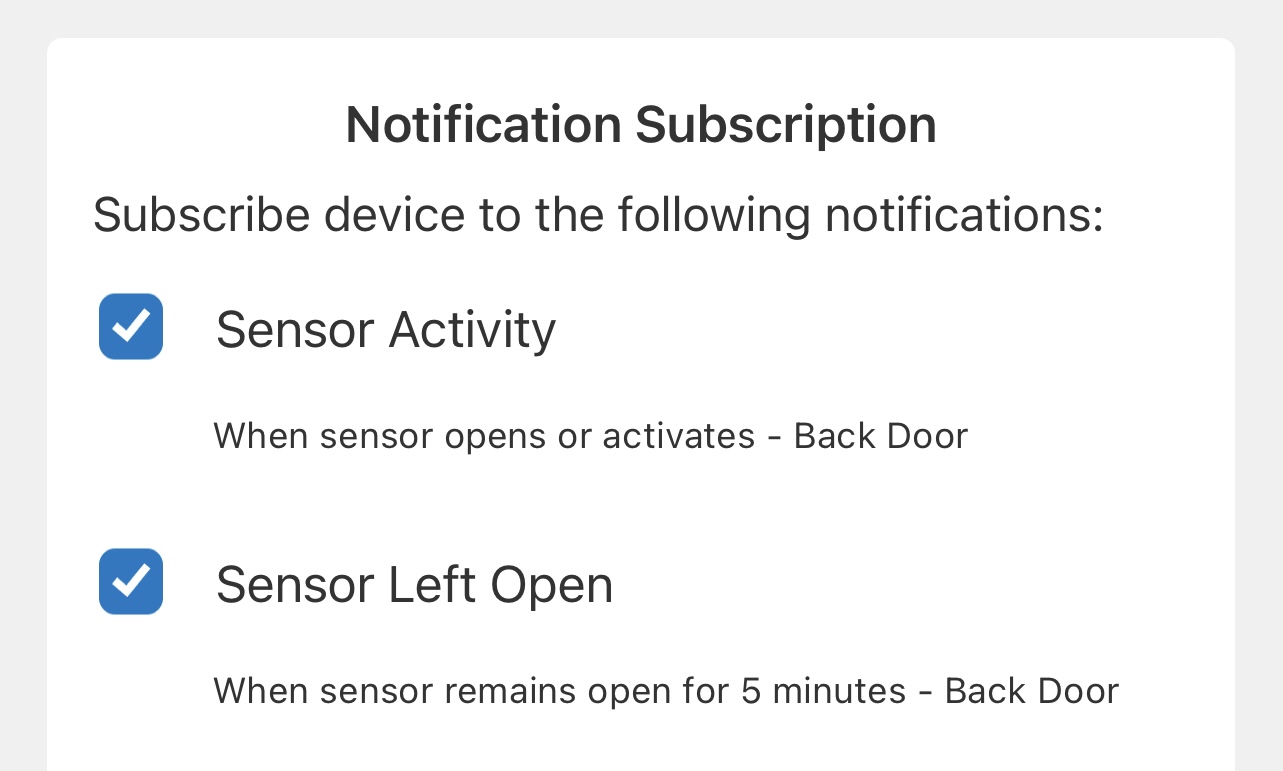 Returning customers:
If you are a returning customer, you need to add your newest Flex Aware(s) to your "Sensor Activity" and "Sensor Left Open" notifications on your account.


How to Add Your Flex Aware to a Notification:
Log in to the All Aware app

Tap the More menu icon in the lower right-hand corner

Tap

Notifications

Tap Edit Notifications
Tap Sensor Activity

Select the checkbox next to the sensor that you would like to receive notifications for


Tap

Save
To add your Flex Aware(s) to a "Sensor Left Open" notification, repeat the above steps but in step 5. Tap Sensor Left Open.
Repeat these steps for any additional Flex Aware sensors you have, ensuring that you select the checkbox next to the device you would like to receive notifications for. You will NOT receive a notification if the checkbox is left unselected.

3. Test Your Notification
Before installing your Flex Aware, ensure that your mobile device is receiving the push notification. To do this, open and close the magnet on the side of the device.
If you receive a push notification on your mobile device, you can continue with the installation. If you do not receive a push notification, try again and repeat step 2. If it still does not work, please follow these steps to troubleshoot.


4. Install Your Flex Aware
Activating and installing your Flex Aware Connected Cable requires different steps than the standard Flex Aware. Please click
here
to watch how to install the Flex Aware Connected Cable.
Gather Recommended Tools
Before you head to your installation location, make sure to gather any tools you may need to assist you in your installation.

Drill
Drill bit (1/16th in) for pre-drilling screw holes
Phillips head #2 screwdriver for hand tightening screws
Pliers for tightening/cutting zip ties

Determine Installation Method


In your box you will find 4 wood screws, 4 self tapping screws, zip ties, and dual lock tape. You can determine which installation method to use based upon your installation location.




Use screws for an extremely durable, permanent solution on wooden or other penetrable surfaces, like barn doors or wooden gates.

Use the wood screws for wooden surfaces

Use the self tapping screws for metal surfaces

Use zip ties for metallic, impenetrable surfaces that are thin enough for the zip ties to wrap around, like pool gates or metal pasture gates.
Use Dual Lock tape for smooth, clean surfaces or for temporary solutions, like rental properties or delivery boxes.

Configure the Flex Aware


Do not install your device until this step is completed. This step will start an installation wizard which will guide you through the steps to change/confirm the magnet position of your device and install your Flex Aware.

Your Flex Aware's default magnet position is left, but if you need a different position for your installation location, configure your device by following the steps below. You will have the option to change your device's magnet position (left, top, right).

How to Configure the Flex Aware

Tap the More icon at the bottom of the screen
Tap +Add Device
Tap Flex Sensor
Tap Next
Tap Get Started
Enter the serial number of your device for which you would like to configure
Tap Reconfigure
Follow the on-screen steps to configure your device

Install Device

Continue following the Wizard in the app to install your device
In the Wizard, you will find an installation video to to guide you. Additionally, you can check out the video with the different installation techniques here: How to Install the Flex Aware
For ideas on where to install your Flex Aware, check out our use cases page.
Congratulations! 🎉
Now that your notifications are set and Flex Aware is installed – you are ready to go! Want to learn more about adding and managing users to keep others informed? Check out our guide on How to Add or Remove a User on Your Account.
If you have any issues with these steps, please contact the All Aware support team at support@allaware.com or Create a Support Ticket.
---
The All Aware

™

Flex Aware sensor enables new levels of flexibility for monitoring valuable property and assets anywhere that LTE connectivity is available. Whether used with a backyard gate or a remote storage unit, the Flex Aware sensor empowers users to keep an eye on what matters most. It can be used with the included magnet to monitor doors, gates, and other entryways.
The All Aware Flex Aware sensor is a monitoring device that is not intended for life safety use cases.